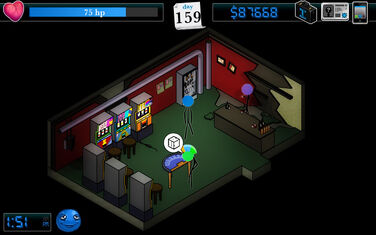 Gambleville is
Paper Thin City's
oldest casino located on the west side of the First Island. It is an old, run down "casino." There are flies buzzing around, the walls are rotting, and the place is truly a dump. It has three usable slot machines and a blackjack table. You can play on the slot machine or try your hand at blackjack.
Hours
Morning: Closed
Afternoon: Open
Evening: Open
Night: Closed
Services
Slot Machines
Blackjack
Characters
Ernie Munson: Ernie is the owner of Gambleville. He stands behind the counter to greet you.
"The East Side Casino ain't got nothin' on me."
"...hold on a sec... sattelite Bingo is about to start. Come ooooon B32! Don't let me down this time, baby!!!"
"Welcome to Paper Thin City's oldest casino! There's always lots of fun to be had and money to be won here at Gambleville!"
Blackjack Dealer: "Blackjack dealer" runs the blackjack table in the casino. He dosen't have an actual name, he's just called "Blackjack Dealer."
"Blickity black jickity jack. You playin' or bailin', homie G?"