Ice Cream 32 - an ice cream shop in the First Island, Paper Thin City. The pink-ish building with a graffiti tag named Lizzy is located in the northwest corner of the First Island. Though it says it sells "32 varieties of ice cream," you can only buy two, the ice cream cone and banana split. It is closed in the evening and night.
This is also where you can get the "Ice Cream Taster" job, which requires +900 karma.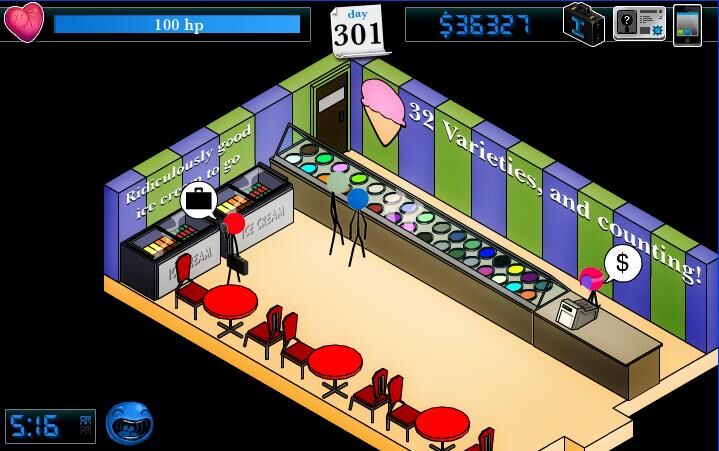 You can buy the asset at Dimension Banks. It is the cheapest of the assets, but it also give the least amount of money. Like all other assets, it will take 2 weeks (14 days) to give you your pay from the asset.
Products
Ice Cream: $4, restores 5 health
Banana Split: $7, restores 18 health
Employees and Customers
Lizzy works there until afternoon when the shop closes.
Jese De Comeuer works there at 4 am only
Mars works there from 4 am to 4:30 am
Joe works there from 4 am to 6 am
Marc Tedin is there until the shop closes.
Sam Pyeson buys a ice cream all the time
Mr.Ed look at Ice cream all day
Cop 1 buys F.Y.
Cop 2 buys M.S.
Uio Du bn Buys a Bar
Job Opportunities