Light Knight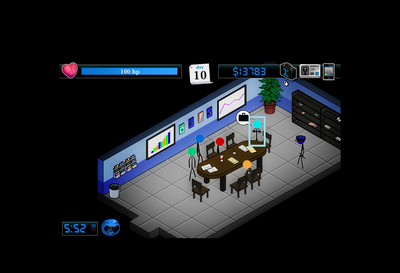 The Light Knight work is based on the Star Wars series. It can be found at City Hall (05:00 AM to 10:00 PM). You must have at least 680 Intelligence, 850 Strength, a considerable amount of Positive Karma, and a Glowy Sword to get the job. For promotions, you must get more Strength, Intelligence and Positive Karma. When you maximize your work, you get the Light Laser Sword, which is the third-level glowy sword and probably the strongest of all the swords found in the game.
Ranks
Padawannabe | $265 "You learned about the light."
Apprentice | $310 "You learned from the master."
Light Adept | $358 "You studied hard."
Peace Protector | $407 "You protected the peace."
Dutiful Duellist | $480 "You fought off some baddies."
Guardian of Good | $590 "In another regular day in the life of a jed...uhh...Guardian of Good."
Helpful Hero | $700 "You did some great things. Just really great."
Light Side Legend | $820 "Another day, another diplomatic mission."
General | $905 "You commanded an army of good guys to do good things."
Master of Virtue | $1,200 "Meditate all day, you did. Paid well, were you."
Random Events
"You saved a child from a burning pile of tires. Bad place to play son." (+30 Karma +15 Strength, +15 Intelligence +15 Charm)
"You went to a comic book convention. Everyone wanted a picture with you" (+20 Karma +30 Intelligence)
"You convinced a career criminal to go back to school using a old mind trick." (+35 Karma, +21 Intelligence)
"You 'floated' a cat out of a tree for an old lady." (+20 Karma, +18 Charm)
"You aced your annual fitness test -- Go you!" (+26 Strength +8 Charm)
"You went to the bar with Jebediah. You had a few to many 'blue milks'." (-10 Strength +26 Charm)
"You went on a diplomatic mission but got jumped by robots." (-10 Strength)
"Your Glowy Sword cleaning kit came in the mail today, but they charged you twice. Stupid online store..." (-$1200)
"You defeated a Dark Lord with your Light Side skills." (+45 Karma, +35 Strength, +70 Intelligence)
"You helped a blind lady cross the street. Mission accomplished." (+50 Karma, +35 Charm)
"You spent the day working on your sword techniques." (+42 Strength)