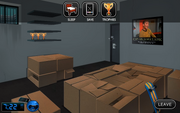 In SRPG2, you may choose to marry someone. By marrying someone, you will receive the trophy, "Game Over Man."
Girls
There are four girls that you can marry.
They are :
Devin ( -300 Negative karma > Bad Girl )- Has orange-red hair and a purple head. She has an incriminating nature, in accordance with her marital requirements.
Tiffany ( 100 Strength > Bimbo ) - Has blonde hair and a pink head. Into muscular or strong men, and described by her sister as not very bright.
Kate ( 200 Intelligence > Pretty Nerd ) - Has brunette hair and a teal head. An intellectual and committed student at U of S.
Victoria ( Money > Trophy Wife ) - Has blonde hair and a dark blue head. Little is known about other than she resides near the Castle.
Benefits
+100 Charm (+200 with Victoria)
Every time you sleep you gain 1 Charm
Community content is available under
CC-BY-SA
unless otherwise noted.