The Penthouse is one of the five housing options in the game. You can buy it for $275,000 from the Dimension Banks in the Third Island. There is a Doorman right outside the building. Cathy can also be seen near the Penthouse, a stickgirl you need to talk to in Tiffany's marital questline.
Interior
The Penthouse is one of the two housing with pre-existing furniture. A balcony can be seen in the leftmost side of the room. Just like in every housing, there is a wall full of shelves for the amount of Trophies the player has earned throughout the savefile. Items in the room vary depending on what the player has in their inventory.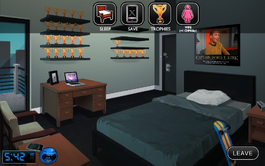 Trivia
It's possible that Tiffany is a resident in Penthouse Estates.