The Sewer People are somewhat of a street gang on the Fourth Island of Paper Thin City. Pedestrians in the street and inside StickBucks may describe the Sewer People as gruesome and merciless. Female Sewer People are called Sewer Wenches. They are known to have a hierarchy, with the king leading the entire pack. At one point in the game (without DC) the fourth island is infested with Sewer People. While you talking to sewer people, they will say BLAHUUUGGGG, GRUHHGGG, CHOP-CHOP KICK, GURRUUUGGGG, Paaaatrickkkk Swwwwaaaaaaayze!!!! or anything else.
How to get the sewer key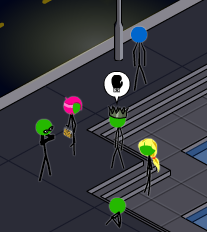 The sewer key located at 4th island, which you must have director cut, You can get the key on night, in front of S.I.T ( Stick Institute of Technology ) and near the pool. Those five green people / sewer people have the key, you must fight the Sewer King and with his friends. In the fight, they don't have ranged weapons ( Pistol, AK-47, Blast Cannon, Double-Barrel Shotgun, and Minigun ), Upon death, they will drop the sewer key.

Rewards
After you got the sewer key from sewer king, you can go to the sewer place located in front of hardware store. After you finish killing sewer people on the sewer place, you will be rewarded a fuel cell that will be used to craft/make Modified Flamethrower.