"We only roll out custom decks wit totally sick one-of-a-kind graphics." - Kris
Skate or Cry is a business on the first island. Skateboards can be purchased, and the Skateboarder Profession. It's not recommended to purchase a skateboard, as an ID Card and XXX DVD can be purchased for 2/3 the price of the skateboard and given to the minor on the 3rd island.
It is located on the top street and is next to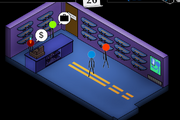 Laundromat
 and
Easy Gym.
NPCS
| | |
| --- | --- |
| Kris | Sells the custom Skateboard for $325 |
| Ashkon | Gives the Pro Skateboarder Profession |
| Cyrus | Dialogue NPC |
Business hours
| | |
| --- | --- |
| Morning | Open |
| Afternoon | Open |
| Evening | Open |
| Night | Closed |
Ranks
You must have 40 Charm and a skateboard to get this job. Promotions come from gaining charm. The ranks at Skate or Cry are:
Mongo Man - $14 per shift
Longboarder - $17 per shift 
Ollie Cat - $21 per shift 
Rail Buster - $26 per shift 
Vert Skater - $33 per shift 
Slick Trickster- $39 per shift 
Grind God - $51 per shift 
Duke of the Deck - $66 per shift
Skate Shoe Designer - $85 per shift
Legendary Skater - $140 per shift + Pro Skateboard 
Random Events
"You placed 1st in the vert competition. Big air means big money." (+$3,100, +21 Charm)
"While shooting a new video, you landed a crazy 720 Japan air. The Japanese are going to LOVE it." (+9 Strength, +14 Charm)
"You spent the day breaking down footage of your latest video. The time paid off -- you saw a couple things you could do better." (+23 Intelligence)
"You tore up the skate park today, leaving onlookers catatonic. One kid said that you had hollow bones."( +12 Strength, +11 Charm)
"You met a group of hot skater chicks at the park. You even scored a number, dawg!" (+21 Charm)
"You pulled a crazy Natas spin; people are calling you Mr. Natas all day." (+7 Intelligence, +14 Charm)
"You scored a Rad Bull sponsorship deal, including a free lifetime supply. Welcome to the world of controversial energy beverages!" (+$3,500)
"An underground skateboard magazine declared you 'Boarder of the year'. Look at you, baller." (+$2,300)
"You came up with a sick new grab trick -- it blew everyone's mind when you landed it perfectly on the first try."(+9 Intelligence)
"You busted a sick 540-heel flip, but broke your board on landing. Aww, muffin... at least you were okay, right?" (-$500)
"You were caught skating in a 'no skate' zone. The security guard was pretty mean about it." (-4 Charm)
"You missed a rail. Your future children may have been affected." (-9 Strength)
"You fell on your head trying to grind a picnic table. For some reason, probably unrelated, you can't remember where you live." (-12 Intelligence)
"You tried to ollie a parked car... good thing it was an ambulance." (-8 Strength, -5 Charm)