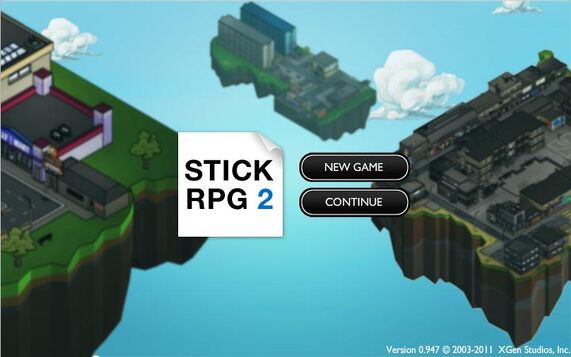 Welcome! To our 2D Universe!
This wiki is for the sequel to Stick RPG that was created by XGen Studios. It was released on April 19, 2011. You can visit their homepage,
http://www.xgenstudios.com/, for more information.
We hope that you enjoy the Wiki, and find it interesting and informative.
- The Wiki team
Note all Dimension Drifters: Thank you for visiting and supporting the Stick RPG 2 Wiki! Before you go, please make a contributing edit on a page that needs some work. Hopefully we can make this wiki great!
Note to all contributors: Before carrying out any edits, please visit the Editing Info page. Never delete content, only add to it please. If you don't like what's written, just post a comment and we'll discuss it. This way, other contributors' work is not lost.
The latest from the Wiki team. This is the place to find out what's new, so return regularly to avoid missing new content!
July 28 - June 3: We should start cleaning up the wiki by putting each page in a category. Also should make a background for the Main page.
---

For any other information or if you are interested in helping with the Wiki, please get in touch with the founder or an admin.
Alternatively, just leave a comment on a relevant page and one of us will get back to you as soon as we can.
Community content is available under
CC-BY-SA
unless otherwise noted.