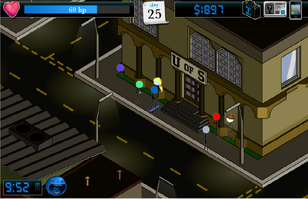 U of S(Information)
U of S is the only school in all the game without Director's Cut. here, you can do Kate's last mission(after get a ring)  You can get INT here.
U of S (inside and outside)
You can study with Tutor Tim, spending only 25$ of your money, and get +4 INT. Or you can study in the class for $165, and get +14 INT
There is also a Gym where you can workout for 20$ and earning +1 STR.
At outside, you can see a group of students and a cheerleader. You can see Kate when everybody exits.
NPC's
Assistant Greg: Nothing.
Professor Longbotton: You can pay him to study
Professor Ansel: Mission to get all 4D objects 
Justin Chejrw: Nothing.
Andre: Nothing 
McMarshall Luhan: Nothing...
Tutor Tim: You can pay him to study
Kyle: Gives book to complete a mission
Cheerleader: Nothing. 
Ricky: Nothing.
Paul: Nothing.
Sharky McSwigglestick: Nothing.
Canuck No.1:Nothing.
Canuck No.2: Nothing.
Slate: Pay him to use the gym
Kate: Can be married