University of Stick (abbreviated as U of S) is a university located in the 2nd Island of Paper Thin City. The player can go here to gain Intelligence and Strength points. Professor Ansel, who you have to give the 4D Objects to in the main quest, can be found here. Kate, one of the stickgirls you can marry in the game, studies here.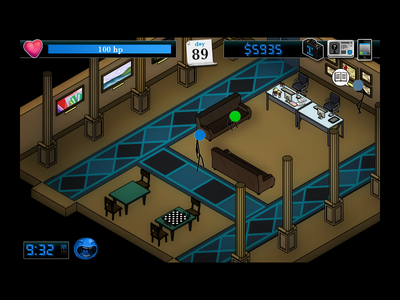 Overview
U of S is the only school in all the game without Director's Cut. here, you can do Kate's last mission(after get a ring)  You can get INT here.
U of S (inside and outside)
You can study with Tutor Tim, spending only 25$ of your money, and get +4 INT. Or you can study in the class for $165, and get +14 INT
There is also a Gym where you can workout for 20$ and earning +1 STR.
At outside, you can see a group of students and a cheerleader. You can see Kate when everybody exits.
NPC's
Assistant Greg: Nothing.
Professor Longbotton: You can pay him to study
Professor Ansel: Mission to get all 4D objects 
Justin Chejrw: Nothing.
Andre: Nothing 
McMarshall Luhan: Nothing...
Tutor Tim: You can pay him to study
Kyle: Gives book to complete a mission
Cheerleader: Nothing. 
Ricky: Nothing.
Paul: Nothing.
Sharky McSwigglestick: Nothing.
Canuck No.1:Nothing.
Canuck No.2: Nothing.
Slate: Pay him to use the gym
Kate: Can be married