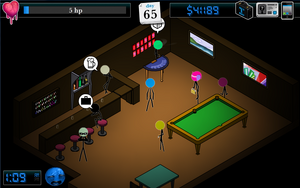 Vinnie's is a rather small and secluded bar established on the Third Island, Paper Thin City. There appears to be a pool table and a Blackjack Dealer, though the pool table is just decoration. You can apply to become a hitman, get drunk or play blackjack. Vinnie's Goon can get you a Trophemon.
NPCs
Vinnie - The notorious assassin with affiliations with the Eastside Mob. You can get the job of Hitman from him. As you may have noticed, the store is named after him and most likely owned by him.
Vinnie's Goon - Vinnie's bodyguard. You will get a Trophemon when you do what he asks.
Vinnie's Muscle - Presumably another employee of Vinnie.
Shady Bartender - Sells you beer for $90.
Lizzy - A close friend of Vinnie's, since she's asking the person next to her whether to kill some Westside Gang members.
Duncan - Attracted to Lizzy. He seems to be a charming smooth talker.
Services
Blackjack
Booze
Trivia
Vinnie's character is based off of (or possibly the same as) Vinnie from the Sift Heads Series, but in Sift Heads Vinnie didn't have mobsters or bodyguards with him. It's assumed that Vinnie has retired from being a hitman, and thats why he needed people to help make assassinations.
Some of the missions you do for Devin involve you to come to Vinnie's.