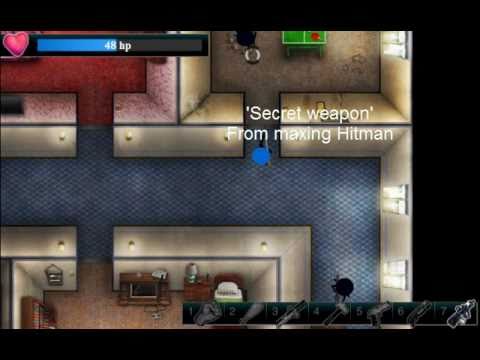 Weapons are battle items designed to inflict damage to anybody who is in a fight with you. A fight is almost impossible to win without the help of a weapon since your fists alone do not damage enemies very well. You cannot use weapons in a boxing match.
Weapon Types
There are two types of weapons: melee and ranged. Ranged weapons are used to shoot enemies from a distance and melee weapons are used to harm anybody right in front of you. To be a masterful fighter, one must learn how to use ranged and melee weapons.
Melee Weapons
| | | |
| --- | --- | --- |
| Name | Levels (1-3) | Description |
| Fists | Fist | Default melee weapon. Does little damage. The fists are the only weapons allowed in a boxing match fight. |
| Baseball Bats | Old, Major League, Hall of Fame | Baseball Bats are the first level of melee weapons. The basic level is weak but the last upgrade is nothing to sneeze at. |
| Katanas | Ornamental, Carbon Steel, Masamune | Slashing weapons complete with sheaths to go along with them so you don't cut yourself by mistake. They have a good range and great power. |
| Sledgehammers | Old Weathered, Heavy, Super | Powerful weapons unrivaled by any other weapons of it's kind. Has a slow swing time. |
Ranged Weapons
| | |
| --- | --- |
| Name | Description |
| Zappy Hat , Electro Helmet, Tesla Helmet | Creates a field of electricity around you to electrify people. |
| (45cc,55cc,70cc) Chainsaw | Not only can it turn people to mincemeat, it is required to become a logger |
| (Homemade , Modified, Nova) Flamethrower | A powerful weapon assembled from various tools found in your everday life. Nothing to see here. Just a massive weapon of destruction. Carry on. |
| Railgun (Prototype, Blast Cannon, Auto-Railer) | Looks like a piece of the future! Best weapon but freaking expensive! |
| Minigun, Chaingun, The King | The Minigun is a multi-barrel heavy machine gun with a high rate of fire. It is very effective in Stick RPG 2. |
| Glowy Sword (Green, Light, Dark) | Resembles a light saber from Star Wars . The weapon is also featured in Stick Arena Ballistic. |
Trivia
The flamethrower and the sledgehammer are the only weapons requiring assembly.
Since there is another construction roadblock on island 2, there may be a new set of weapons if there is a fifth island.
Aside from getting the Director's Cut, the Director's Cut weapons can also be seen on late-game dungeons.
Community content is available under
CC-BY-SA
unless otherwise noted.